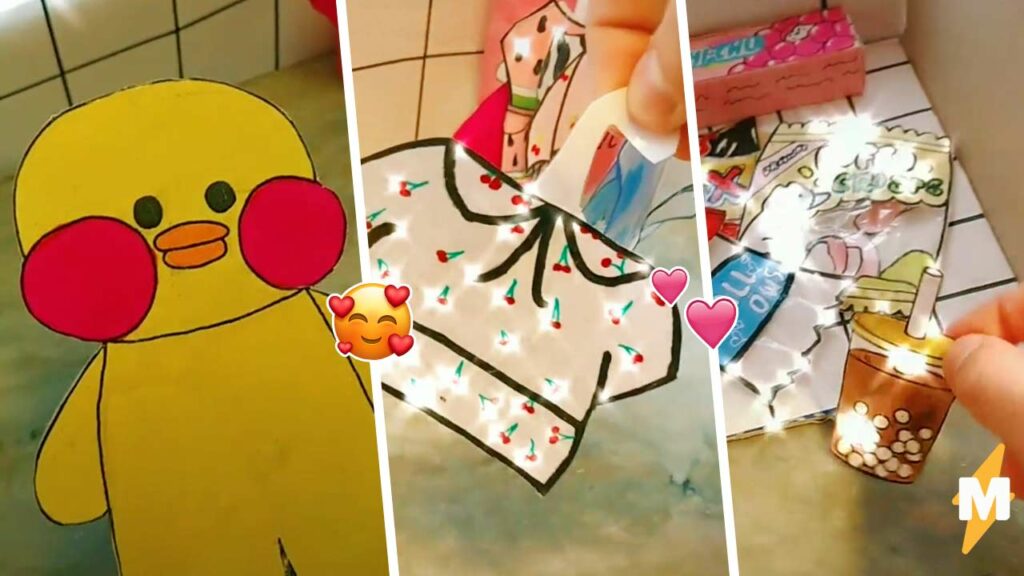 The paper Tik-Tok duck has become a favorite pet for many young Internet users. They make a copy of a soft toy Lalafanfan duck using easy-to-get and use materials, dress it in stylish clothes, and take care of it. The author of lalafan.fan dived into the topic to understand how to make a fashionable bird. It turns out to be so simple!
How did a paper Lalafanfan duck became worldwide famous?
Having a paper duck is super trendy right now. The activity can be rooted back to Tik Tok, where it was at its peak at the end of 2021. Endless short videos show young owners and their paper pets, which are drawn and cut out copies of a popular soft toy Lalafanfan duck. The figurines of unusual friends are covered with scotch tape to protect them from tearing or getting wet. Children are ready to do anything to ensure a long and happy life for their favorites.
Teenagers and smaller kids also make bird-sized cribs, hygiene products, and cosmetics. The most devoted fans build private paper rooms! They also feed the ducks regularly, take them on vacations and brush their teeth.
These creatures even get their own wardrobes filled with clothes and accessories! Web-users dress them in all sorts of garments. But the most popular style is the Kidcore: T-shirts with bright prints, beaded jewelry, and jeans with glitter/stickers. This is a way to make their little friends unique.
While some bragged about their fancy pets, others tried to figure out how to make a paper duck.
TikTok paper duck with your own hands
Here is a list of things you'll need to craft a popular Tik Tok duck yourself:
A4 sheet of paper
Colored pencils
Felt-tip pens or paints
Scissors
Duct tape
First of all, make a sketch of the head and the body of the future pet. Then draw the cheeks in the lower part of the head. Let them go a little beyond the outline to make a better resemblance with the original Lalafanfan plush doll. Add a beak in-between with 2 arc-like strokes. The eyes and a small crest on the top are the final touches.
Ready-made Lalafanfan duck templates
Choose an easier way and print out beautiful sketches of the paper TikTok duck.
Templates for a paper Tik Tok duckling
Then the image must be colored. As a rule, young Tik-Tok artists choose yellow for the body, orange for the beak, and pink for the cheeks and crest. But it's not obligatory. You can ignore this rule and set your imagination loose. A tip: use a black marker to outline the bird's edges. It'll make it look cooler.
Painting the duck
When the drawing dries, laminate the sheet with duct tape on both sides. It is important to avoid any flaws. Gaps between layers won't protect the creature from dirt or water. When everything is ready, use scissors to cut the figure out.
Use duct tape and cut out
How do you make clothes for a paper duck? Take a new sheet of paper and outline the duck's figure. Then draw the necessary item of clothing within the contour. Once the image is ready, use duct tape and cut it out (just like with the duck). Attach one or several pieces of double-sided tape to the back of the garment.
Thanks to this, it'll stick to the duck's figure.