What is a LalaFanfan Cafe Mimi Duck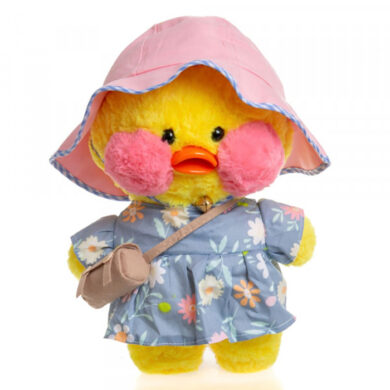 LalaFanfan Duck doll is a lala plush toy from the Korean studio Cafe Mimi. Qualitatively made and pleasant to touch. A soft duck with pink cheeks, it can be dressed up with round glasses, a shoulder bag, clothes, a headband or a hat. Where did this blushing wonderwork come from in the first place?
It's simple: it was created by the South Korean puppet studio LALAFANFAN Cafe Mimi designers from Seoul, South Korea.
The first version of the duck was published on instagram @cafe_mimi on May 19, 2016. They also have funny doggies in the same line in a similar version. Marketing and promotion of these two toys, I think, were the same (YouTube, social media, bloggers). But it was the duck that "took off." The duck first conquered Asia, and then spread around the world.
The guys from the band BTS and other key poppers played their role in the popularization of the toy. Fans of this genre of music also wanted a toy like their idols.
In just a few months, the toy became a local hit, with a line of people wanting to order the duck. To produce the toy in large quantities, the studio started to cooperate with the clothing and accessories brand Chuu. This is how the duck got its modern look. Chuu also manufactures other products apart from the duck – clothes, phone cases, etc.
Perhaps it's because it's rare to find a toy bird on the market. Moreover it's in such a cute, pink-cheeked form with puffed out lips, wearing a hat, knitted sweater and a purse over its shoulder. Kind of reminds you of a cute and clumsy baby. Or maybe the stars just aligned – it is often impossible to predict what and when will become a trend in children's toys.
This wonderful toy will be a great gift for both girls and boys. It is so incredibly beautiful that even adults will love it. You can choose stylish clothes and fashionable accessories for the duck – it will be a nice addition and will diversify the game. LalaFanfan Duck's adorable eyes won't leave anyone indifferent. This is a great gift for your child that may become a true friend.
In today's world there is no shortage of toys for girls. The number of dolls is more than enough: you can choose the size, the number of additional functions, a complete set to them. There are any options to choose from. Starting from the most trivial baby dolls to almost full height models with the function of repeating the baby talk. But before you buy, it is important to consider not only these parameters, but also the relevance.
Why are dressed up Lalafan ducks so popular and how to avoid fakes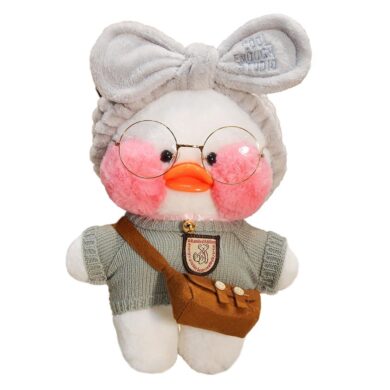 The popular toy gained such popularity that it's frequently illegally counterfeited. It's easier to find fakes than the original products if you type in the request "Lalafan fan Cafe Mimi".
Anyway, the duck has conquered the world thanks to marketplaces. It's usually dressed up and decorated with accessories: round glasses, a bag, and a headband or a hat.
It is important to buy the original for the children's sake. Otherwise, they'll stand out in a negative way when compared to their friends' toys and be deprived of all the fun. Don't let that happen.
For example, simple, inexpensive, and cute Lalafan fan dolls have been recently gaining popularity. They have human-like bodies with legs and arms instead of paws and wings. But the muzzle remains the same as of the first prototype.
LalaFan fan: a plush yellow duck toy with pink cheeks – a great toy for girls and boys
Let's try to understand why this strange waterfowl has such a hooking effect on children. The main reason is its incredibly cute appearance: huge pink cheeks, charming beady little eyes, and stylish clothes as a finishing touch.
The latter is one of the key factors relevant for girls in the first place: their favorite toy wears fashionable things that are super-trendy right now. It's important for little princesses. Dressing up like grown-up girls with a great sense of style, they'll be happy to have a doll that matches their standards and looks as outstanding as they do!
The standard set of LalaFan fan duck dolls includes:
Headgear;
A sweater or jumpsuit;
A neck accessory;
A bag;
Eyeglasses.
The latter position is a key element. Glasses are hard to tell apart from real ones. Items have slight differences depending on the model.
You can get all that for an affordable price. A child will be interested to play with this set and dress the doll in different combinations. Just add pajamas to this collection to make it whole. In addition, get primed for a great socializing effect: girls can exchange items to diversify their wardrobes and better interact with each other.
Parents approve the original LalaFanfan Duck doll
We've already said that children will be happy and socialize better. But if you look at the situation from the parents' point of view, there are also advantages.
The most important are:
Safety;
Simple care conditions;
High-quality components and reliable tailoring.
At an affordable price, you get a decent level of materials and thought-through implementation. LalaFanfan duck doll boasts about pleasant tactile characteristics, solid sewing (nothing will be torn or splintered), and allergy-friendly fabrics (hypoallergenic features).
Special stuffing is designed to keep its qualities after numerous washing cycles. Just clean the toy in the Gentle Wash mode to get rid of dust that accumulates inside the plush over time. Don't be afraid that the stuffing will bunch up on one side: it'll remain as good as new.
To get all the advantages of the duck doll, seek branded products. The most visible differences will be the size, weight, and type of the eye-beak attachment. Speaking of the sizes, it should be 30 centimeters high and 23-27 centimeters wide (it varies depending on the type of LalaFanfan subspecies you have). The weight of the original is 450 grams. External elements are firmly built right to the fabric, while counterfeit manufacturers use primitive and unreliable glue.
The LalaFanfan origin models (ducks dressed up doll) are sold in various stores with different dresses and 3 main skin colors: pink, white, and yellow.
Video: tutorial how to do clothes for your paper duck Lalafanfan duck